MEETINGS and NEWS
Programme for 2017/2018
All meetings are held on Friday evenings and start at 7 PM in Room B13.
27th January 2017
Rosalind Sword
Coloured Worcester Porcelain of the First Period - the H R Marshall Collection at the Ashmolean Museum.
10th February 2017
Film Night

(NOTE CHANGE OF FILM)

"Beautiful Things - a Passion for Porcelain" - Ros Savill tells the tale of opulent Sevres porcelain of the 17th Century.
24th February 2017
Pot Night – Ink Wells and Candlesticks.
10th March 2017
Philip Mernick
London Saltglazed – Mostly Brown.
24th March 2017
Ian Harvey
Rathbone – Revisited and Enhanced.
12th May 2017
Desmond King
18th Century English & European Ceramic Handled Knives & Forks.
26th May 2017
Anton Gabszewicz
Blue & White Bow Porcelain c 1748-1775.
9th June 2017
Roger Massey
The Forgotten Japanese Influence: Imari and English 18th Century Ceramics.
23rd June 2017
Michael Signy
Rivets, Repairs and Replacement Handles.
7th July 2017
Pot Night
Bring one or two Sauceboats, Creamers or Sucriers.
6th October 2017
AGM and Pot night: bring your recent acquisitions.
3rd November 2017
Helen Espir
Further thoughts on clobbered oriental porcelains.
17th November 2017
Philip Mernick
Not made in London; more on brown stonewares 1700-1900.
1st December 2017
Film Night
Russian Imperial Porcelain.
15th December 2017
Patricia Ferguson
Prints on Pots, 1765-1815 - a Temporary Exhibition at the British Museum.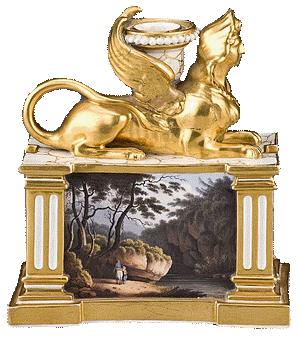 Worcester Barr Flight & Barr griffin candlestick, c 1805
Meetings start at 7 pm promptly and are usually held in Room B13. Details of any changes are given on the printed list of room allocations by the Reception desk in the College Foyer. Any queries, ask at Reception.
Lectures generally last about an hour and are followed by a period of questions and discussion. Meetings usually finish by about 8.30 pm.
Those members of the Circle who arrive at the College before 7 pm (i.e. from around 5.45 pm) come to the College Refectory where, while taking refreshment, they can talk informally with fellow-members and, for example, seek comments on problem pots.
Non-members are welcome to come to two meetings. If you do so, please make yourself known to the Chairman, James Sewell, or any other Committee member. New members should also identify themselves at their first attendance.
Annual Seminar

The LCC 2017 Annual Seminar will be held on the weekend of
21st and 22nd October 2017.